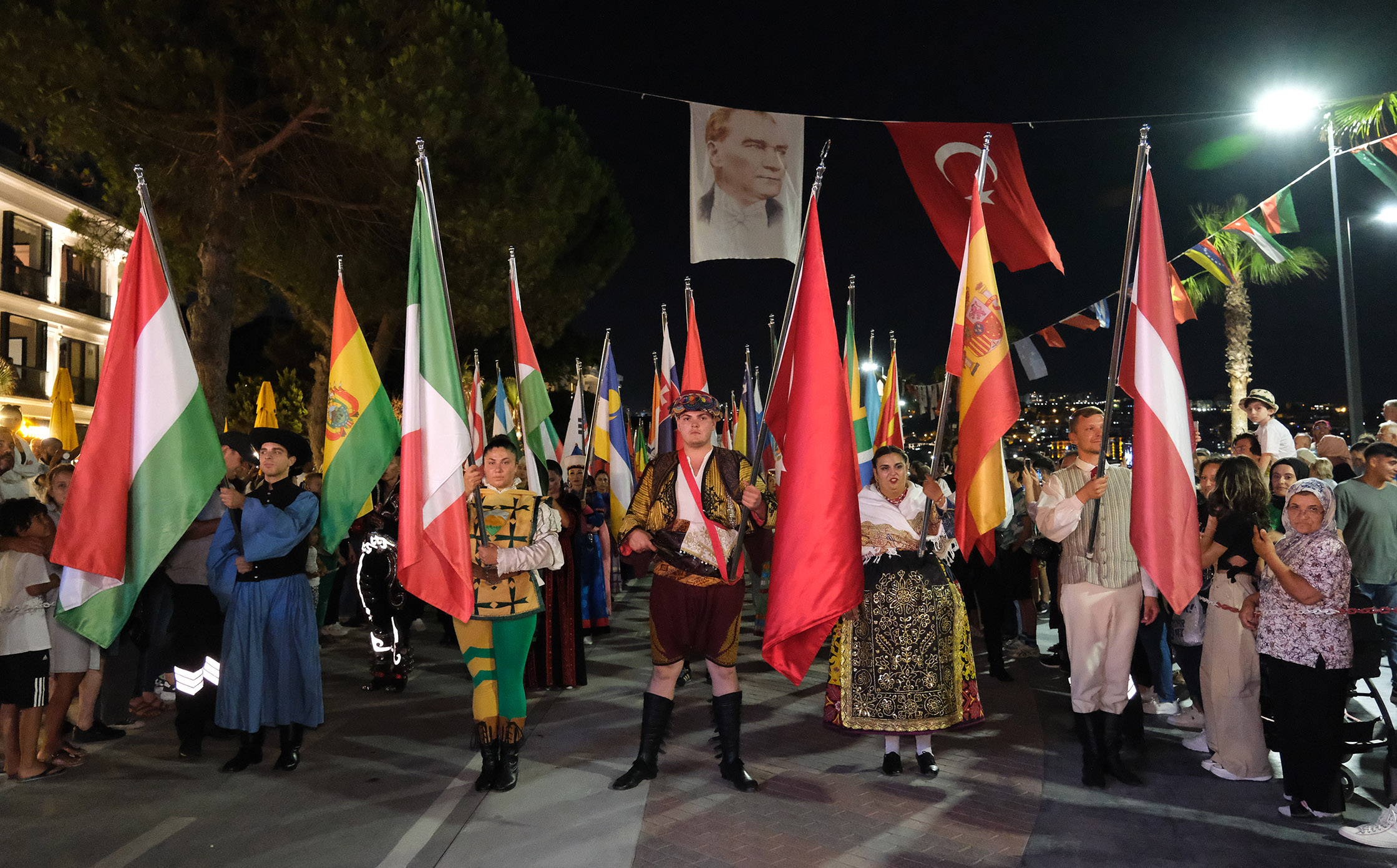 Spectacular Festival with Participants from 100 Countries Outshines Rio Carnival
The traditional parade walk, which took place as part of the 24th International Istanbul Büyükçekmece Culture and Art Festival organized by Büyükçekmece Municipality, provided a visual spectacle.
During the parade walk, 1,550 cultural and artistic envoys from 100 countries participated wearing their traditional outfits, while thousands of Büyükçekmece residents joined with costumes they designed themselves.
Büyükçekmece Kordonboyu witnessed a visual feast
The performance of the dancers from countries all around the world, including South Korea, South Africa, Hungary, Mexico, Chile, Poland, Russia, Ukraine, Bolivia, India, Kazakhstan, Poland, Costa Rica, during the International Istanbul Büyükçekmece Culture and Art Festival, held with the participation of nations from every corner of the globe, was met with great admiration as they showcased their talents during the parade. Along the route of the procession, local merchants added their support with confetti and fireworks, starting from Albatros Beach. The enthusiasm soared even higher as Büyükçekmece's fishermen joined the parade from the sea with their boats. The procession culminated at Büyükçekmece Town Square. Büyükçekmece Mayor Dr. Hasan Akgün, accompanied by his wife Hatice Akgün, distributed carnations to the citizens during the walk and invited them to the festival, which will continue until August 5th. Fırat Ataser, Mayor of Lapta Alsancak Çamlıbel in Northern Cyprus, Dr. Önder Yüksel Eryiğit, Head of the Health Department of Istanbul Metropolitan Municipality, former Member of Parliament Süleyman Çelebi, Second Vice President of the World Folk Dance Federation, Gürhan Ozanoğlu, and members of the municipal council also joined to greet the citizens.
"Congratulations to Büyükçekmece for earning the title of 'World Festival'."
Büyükçekmece Mayor Dr. Hasan Akgün said the following: "By combining the 24th International Istanbul Büyükçekmece Culture and Art Festival with the ceremonies of the 100th anniversary of our Republic, we have created a magnificent festival. An immense convergence of world culture and art has emerged. This is because, for the first time, representatives from 100 countries are participating in a festival simultaneously. Right now, they are all showcasing their performances behind us. In about an hour and a half, we will reach Büyükçekmece Municipality. We will conclude this evening with a concert in the grand Cumhuriyet Square. The festival continues with high-level cultural and artistic activities. Sculptors, the World Handicrafts Symposium, the World Folk Dance Competition, the World Puppet Exhibition, the World Photography Competition with the participation of 5,800 photographers, promotion of Turkish cuisine – we are experiencing an incredible cultural event and celebration. The International Festival Association also said, 'How are you managing this? We congratulate you in advance. We have never witnessed a festival with representatives from 100 countries before. You truly deserve the highest award.' I invite all Istanbul residents, art enthusiasts, and the Büyükçekmece community to come and witness the events, richness, and exhibitions at the Büyükçekmece Festival. Everything is free. May our festival be blessed. Congratulations to Büyükçekmece for receiving the title of 'World Festival'."