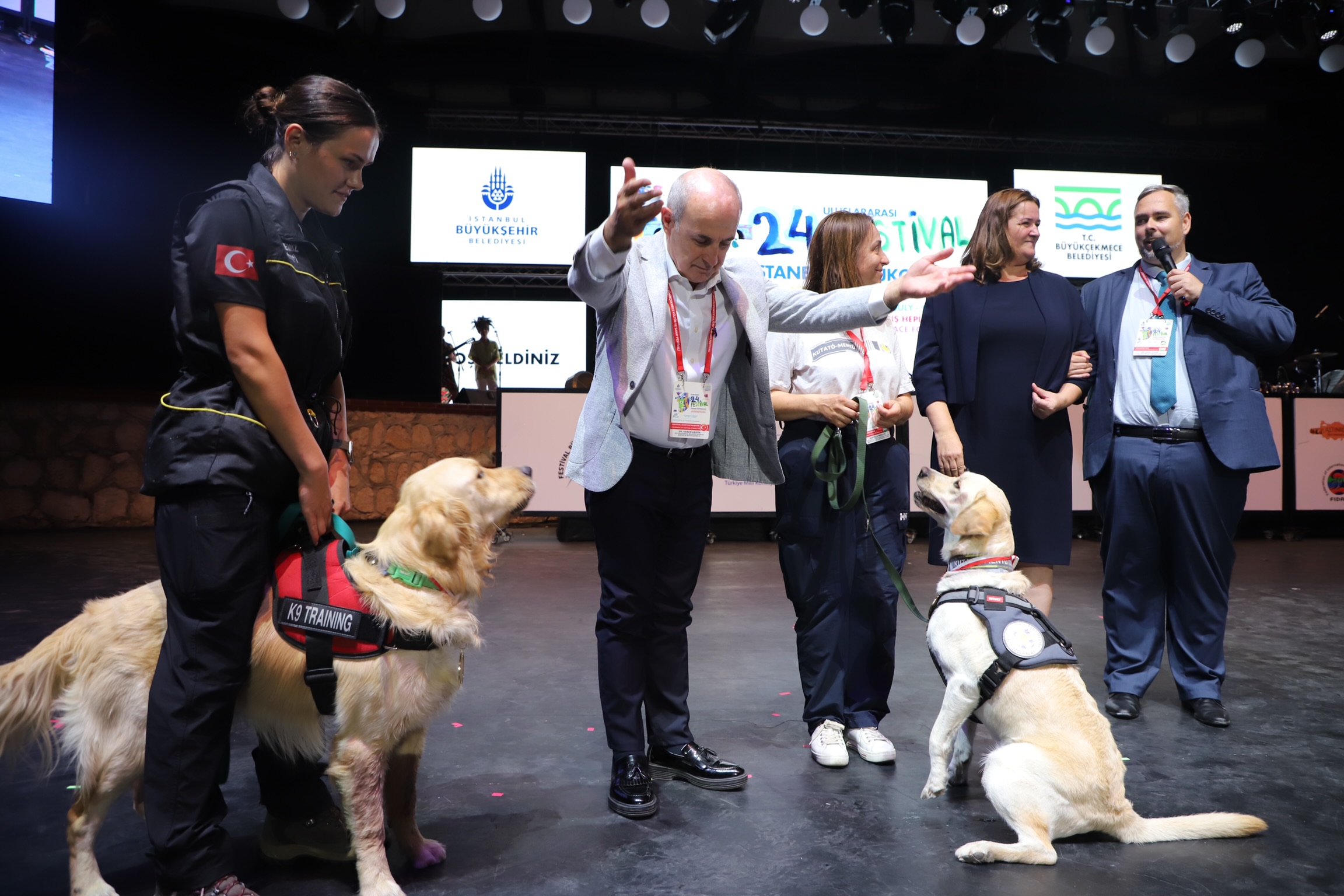 Medals were awarded to the dogs that saved the lives of 31 people.
After the two earthquakes centered in Kahramanmaraş that occurred on February 6th, Tigi and Petra, search and rescue dogs, were presented with heroism medals for their search and rescue efforts in Hatay immediately following the earthquakes.
During the visit of Büyükçekmece Municipality to its sister city Obuda Municipality in Hungary, a surprising incident took place.
The heroism medal was awarded.
It has been revealed that Tigi, a dog from the team that came from the city of Obuda in Hungary for the 24th International Istanbul Büyükçekmece Culture and Arts Festival, worked alongside the Hungarian search and rescue team that arrived in Hatay immediately after the earthquake and saved the lives of 17 people. Petra, the dog of Büyükçekmece Municipality Search and Rescue Team, which set out for Hatay from the early hours of the earthquake, also played a role in locating 14 individuals and ensuring their safe rescue during search and rescue operations in the Defne district of Hatay.
At the Büyükçekmece Kemal Sunal Amphitheater, the heroic search and rescue dogs Tigi and Petra were awarded the "heroism medal" by Büyükçekmece Mayor Dr. Hasan Akgün and Obuda Mayor Dr. Laszlo Kiss, who came together to honor them.
"You know your friends in difficult times."
Mayor of Büyükçekmece, Dr. Hasan Akgün, said the following: "These two lovers of rescue, along with a 22-person rescue team from the Obuda Municipality and a 40-person rescue team from Büyükçekmece, received the greatest support from us while working tirelessly. They only asked for water and bread from us. Let's applaud them as well. We will award them with a heroism medal, and we will present them with a brave heart medal."
Mayor of Obuda, Dr. Laszlo Kiss, also spoke as follows: "I am very pleased to be here. My friend Gabriella Paraczki was actively involved in the rescue of earthquake victims in Hatay. Another name is Tigi, who is a dog but provided a lot of help and saved many people. We have a Hungarian proverb, 'You know your friends in difficult times.'"